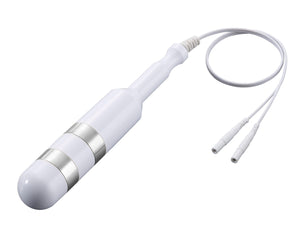 Description
Features
Reviews
The Amelia Probe:
The Amelia Probe is the standard tubular probe for many women.  Its round shape and 360 degree dual electrodes make use simple and straightforward to insert and use.  At 25mm wide, the Amelia Probe is appropriate to meet the size requirements for the majority of women.  The long length of the tube allows you to adjust the depth of the stimulation to maximize its effectiveness and find comfort.
 Instructions for Use:
 Clean your Amelia probe using warm soapy water and rinse well
Attach your Amelia probe to your YoniFlex Trainer
Add your preferred water based lubricant to the probe

Get yourself in a comfortable position (I prefer on my back in bed propped up with pillows)
Insert the probe to the point where only the thinner portion of the probe is visible.
Start your YoniFlex on your preferred program
Once your program is finished, clean your Amelia probe with warm soapy water and leave to dry
Why the name "Amelia" ? 
Our Amelia probe is a celebration of empowered women in our history.  Amelia Earhart championed the advancement of women in aviation. 
Amelia Earhart became the first woman to fly solo across the Atlantic Ocean, and the first person to fly solo from Hawaii to the U.S. mainland. 
In July of 1937 Amelia was attempting to fly around the entire world and disappeared over the Pacific Ocean.  Her plane was never found, and her disappearance remains one of the greatest unsolved mysteries of the twentieth century.
You can read more about Amelia Earhart here.
Amelia Probe Features:
100% nickel free stainless steel electrodes
Lightweight and easy to insert
Smooth single body manufacturing process eliminates edges from molding
Dual electrodes to ensure full muscle connection

360 degree electrode for deep muscle penetration
Lightweight to ensure ease of use
No question asked 30 day full replacement warranty
Easy to clean 
Amelia Probe Specifications:
Length:  14.8cm (full probe with handle) - 9cm (insert portion of probe)
Width:  2.5cm 
Certification:  CE Grade II medical device
Manufacturing Material:  ABS plastic 
Designed in Canada - Manufactured in Taiwan
 Click Here to compare all of the available YoniFlex Probes!
Amelia Probe Specifications:
Length: 15cm/5.9″ (full probe with handle) - 9

cm/3.5″ (insert-able portion of probe)

Diameter: 2.5cm/0.9″
Certification: CE Grade II medical device Manufacturing
Material: ABS plastic & Surgical stainless steel