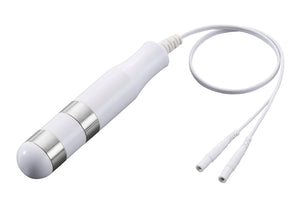 Description
Features
Reviews
The Marie Probe:




The Marie Probe is our smallest vaginal probe at just 20mm thickness.  It is designed for those with smaller vaginas or those experiencing prolapse causing limitations in vaginal size.   Its small round shape and 360 degree dual electrodes make use simple and straightforward to insert and use.  At just 20mm wide and 100mm length, the Marie Probe is a great probe to use if you have any challenges with vaginitis or prolapse.  
Who is the Marie Probe best suited for?
Women with smaller then average vagina sizes
Women experiencing vaginismus
Women experiencing pelvic organ prolapse
 Instructions for Use:
 Clean your Marie probe using warm soapy water and rinse well
Attach your

Marie 

probe to your YoniFlex Trainer
Add your preferred water based lubricant to the probe

Get yourself in a comfortable position (I prefer on my back in bed propped up with pillows)
Insert the probe to the point where only the thinner portion of the probe is visible.
Start your YoniFlex on your preferred program
Once your program is finished, clean your

Marie 

probe with warm soapy water and leave to dry
---
Why the name "Marie" ? 
Our Marie probe is a celebration of empowered women in our history.  Marie Curie was the first woman to win a Nobel prize and the first person to win two Nobel prizes.
IN 1903 Marie Curie won the Nobel prize in physics along with her husband Pierre Curie and Henri Becquerel, for their work with radiation phenomena.  She succeeded in isolating radium and defined an international standard for radioactive emissions that is named for her and her husband, called the curie.

In 1911 Marie won a Nobel prize again, this time for advanced in chemistry by the discovery of the elements radium and polonium.  Marie was the first person to win two Nobel prizes. 
You can read more about Marie Curie here.
Marie Probe Features:
100% nickel free metal
Lightweight and easy to insert
Smooth single body manufacturing process eliminates edges from molding
Dual electrodes to ensure full muscle connection

360 degree electrode for deep muscle penetration
Lightweight to ensure ease of use
Very slim at just 20mm width and 100mm length
No question asked 30 day full replacement warranty
Easy to clean 
Marie Probe Specifications:
Length:  10cm (full probe with handle) - 7.5cm (insert portion of probe)
Width:  2cm 
Certification:  CE Grade II medical device
Manufacturing Material:  ABS plastic & Surgical Stainless Steel
Designed in Canada - Manufactured in Taiwan
Marie Probe Specifications:
Length: 10cm/3.9″ (full probe with handle)
Diameter: 2cm/0.8″
Certification: CE Grade II medical device Manufacturing
Material: ABS plastic & Surgical stainless steel